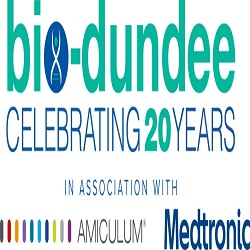 Featuring tech past, present and into the future
Taking place on Wednesday, May 12, 2021, the 20th BioDundee International Conference in association with AMICULUM and Medtronic will be held virtually, along with an accompanying exhibition and networking opportunity. 
The theme of this year's conference is "Life Sciences and Healthcare: Key Sectors for Economic Recovery" and will feature speakers from academia, business and government across different sessions throughout the day. 
Established in 1997, BioDundee is a partnership between the public, private and academic sectors. It aims to promote Dundee as a world-class centre for life science and healthcare activity, as well as build the strength of the sectors in the city and wider Tayside region.  
Sessions include:
Driving Health Technologies in the New Environment
The growth in health technology has already revolutionised patient care and the innovations it brings will continue to go strength to strength. As a sector, life sciences are a vital contributor to Scotland and will contribute to deliver considerable growth in this period of change and opportunity.
The session aims to highlight some of the drivers & uniqueness that Scotland has to offer this sector and we will hear from experts on how the infrastructure can support and attract innovation to our shores.
Animal Health, Agri-tech and Aquaculture (AAA): Strengths and Opportunities in Scotland
Animal health, Agri-tech and Aquaculture features as a priority focus area for the Life Sciences Scotland Strategic Response Plan.
This session will look at some of the biggest opportunities for growth, including animal health research and development investment to help contribute to tackling disease; the use of data and how it can drive innovation and emerging technologies; and the opportunity to tackle climate change through net zero projects within AAA.
20 Years On: Reflecting and Looking to the Future
Over the past 20 years there have been incredible discoveries and progress made by members of the BioDundee community, which have had a global impact and been recognised in international impact ratings.
Through Tay Cities and other projects, the research and related commercialisation base in the city is set to develop over the coming decades, with investment in infrastructure and resources, further establishing Dundee's reputation as a hub for innovation and discovery.
This session will look back at some of these projects and their effect and look forward to what's coming next.
What do the next 20 years hold for the Life Sciences and Healthcare Sectors? sponsored by Invest in Dundee
The session will focus on the 'health is wealth' agenda.
As the world seeks to recover from the effects of the global pandemic, it has been widely accepted that the existing models of health and care delivery are not sustainable into the future.
This creates real opportunities for collaboration between health and care delivery organisations, academia and industry to co-design with citizens the next generation of healthcare solutions.
The panel will share their views of the future direction of travel, where the emphasis should be to deliver maximum benefit and how Dundee (and Scotland) can play a leading role.
Wednesday, 12 May, 2021 -
Virtual Conference, Exhibition and Networking