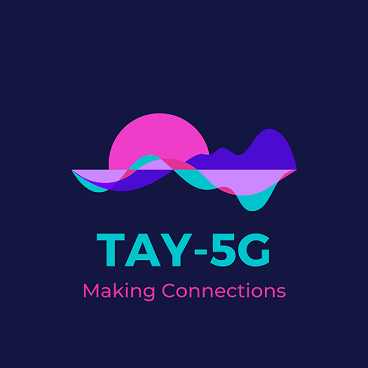 TAY 5G is about offering opportunities to try out 5G - fifth generation mobile communications - with use cases for all kinds of sectors from entertainment to manufacturing, healthcare to construction, fashion to automated transport.
5G is especially great for enabling advanced communications like virtual reality, automation  and the Internet of Things that is a key tool for Smart Cities.
To find out more or get involved please contact the Tay 5G team  - email info@tay5g.com or call +44 (0)1382 432483 / +44 (0)7951 380403. 
The project is part of Tay Cities Deal and is funded by the Scottish and UK Governments, with use cases for all kinds of sectors that reflect the regional strengths and priorities of the Tay Cities Region which takes in Angus, Dundee, Fife and Perth & Kinross.
The idea is that by encouraging and supporting engagement with 5G, it's easier to understand what it offers and so this helps to generate demand. In turn, telecoms companies respond to that demand with faster roll-out. 
We are working with partners including Scottish Futures Trust, Councils and Universities in Tay Cities Region and the Scotland 5G Centre.
What is 5G?
5G is the next or 5th generation of mobile communication and offers more than just faster mobile communication. Ultrafast, ubiquitous connectivity is transforming modern life and business and 5G, Fifth Generation mobile communications, is the latest and game-changing, evolutionary development. 5G offers new levels of interaction and enables applications of enormous social, economic and environmental value. Its significantly increased speed, transmission consistency, latency (delay) reduction, power efficiency (at around 10% of the power consumption of 4G) and simultaneous delivery of multiple high bandwidth applications are set to disrupt both traditional and digital sectors. 5G will pave the way for automated vehicles, smart cities, automated manufacturing and enhanced business and entertainment communications.
It can handle applications that require greater bandwidth in a wireless setting such as virtual and augmented reality. It can also support the management of immense data sets such as those generated by Internet of Things (IoT) sensors and cameras to inform business intelligence, decisions and actions to improve many aspects of daily life. Lower latency means instant or virtually instant response times and therefore the possibility of real time interaction with higher resolution media, visualisation, data transmission and artificial intelligence (AI).
The Big Picture

The World Economic Forum predicts that "fast, intelligent internet connectivity enabled by 5G technology is expected to create approximately $3.6 trillion in economic output and 22.3 million jobs by 2035 in the global 5G value chain"  and that this will support global economic value of $13.2 trillion across industry, communications, retail and public services. The report highlights the significant investment needed to make 5G a reality and the consequent need for collaboration to accelerate deployment. A study by Deloitte commissioned by the Scottish Futures Trust reports impacts also by 2035 for Scotland of between £6 billion and £17 billion and up to 160,000 new jobs depending on the pace of roll-out . This OBC recognises that 5G is also part of and enabled by the wider creative, digital and technology ecosystem that is seeing significant growth. It outlines the opportunity to build on the city's substantial track record for digital innovation, investment in research and infrastructure and our national and global networks to deliver business, job and social impacts across the region and nationally. 
TAY 5G investment is supporting early engagement with 5G by the region's digital sectors and the diverse industries and services these enable.
5G Testbeds
5G is at a very early stage of roll-out in Scotland, the UK and worldwide. To get a handle on the technology, public, private and university sectors are creating private testbeds and hybrid testbeds that can also be accessed by the public.
A private 5G testbed works by allowing the connection of 5G enabled devices of all kinds including phones and computers to develop and try out applications. 
In 2016, Dundee City Council secured £2M of funding from the Scottish Government to invest in digital connectivity  - a 5G testbed and free public wi-fi in and around the Central Waterfront and the City Centre.
Creative, Digital and Tech to make,Show, Tell and Sell
The creative, digital and technology sectors are already playing a crucial role in responding to national challenges. They can be applied to improve productivity through more efficient operations and new and innovative ways to make and deliver content, products and services.
5G is a key part of an ever evolving eco-system and the project is in the spirit of the Logan report on the Scottish technology ecosystem towards the increase of "the creation rate of profitable, scaled tech businesses and to reduce the time taken for viable individual start-ups to reach scale".
Creative, digital and technology services are key enablers for our modern-day world and digital infrastructure like 5G is the essential track for the train. Together they deliver on the promise of technology for daily life, business, travel, healthcare entertainment and beyond. Digital connectivity is now a fundamental expectation and seen as the '4th utility'.
Advancing societies

5G opens cutting-edge ways of improving safety and sustainability.

Smarter electricity grids for greatly reduced carbon emissions
More connected vehicles sharing data to prevent road collisions
Faster deployment of emergency services to accidents
Connected sensors that can detect and warn of natural disasters early
Drones becoming a key tool to accelerate and support emergency situation response
Remote expertise with specialists smoothly consulting/diagnosing patients elsewhere

Transforming industries

5G is the foundation for flexible, efficient and responsible business.
Production lines autonomously reacting to supply and demand
Digital replicas that can warn about real machinery faults ahead of time
Logistic networks autonomously routing goods based on real-world conditions
Full traceability down to the individual item at warehouses and ports
Remote access to powerful robots and vehicles for improved safety in risky environments
Increased use of IoT in agriculture to efficiently grow crops

Elevating experiences

5G sets the stage for more immersive entertainment and more engaging education.

Greater realism in VR, AR and extended reality (XR) with lighter devices
Delivering sensory experiences, like touch, through devices
More engaging methods of teaching through immersive content
Immersive virtual meetings to boost remote team productivity
Stable and reliable connectivity in crowded spaces
New angles and interactions for live and remote event spectators